1 The DX8 uses advanced Synchronous buck-boost DC/DC converter technology, high power, a high current and high-performance power conversion circuit. The maximum charge power capacity is up to 1600W, the maximum charge/discharge current of a channel is up to 30A, and two channels in Synchronous Mode are up to 50A.
2 Each channel supports 8s LiPo, Lilo, LiFe, LiHV, LTO and NiZn batteries, with maximum 2A balance current, and adopts a unique balance calculation of internal resistance correction. Supports 1-25s NiMH/NiCd batteries and 1-15s Pb batteries.
3 With digital-power mode for great protection (over-current protection, over-voltage protection, input under-voltage protection, input undercurrent protection, and etc.)
4 With type-c PD charging port, convenient for the user to charge mobile phones and PCs.
5 Intelligent fan control. Sensing internal temperature via the internal temperature sensor, to thereby control the fan speed.
6 Internal temperature protection. When the internal temperature exceeds the Power Reduce temperature, the output power is automatically reduced; and the charger will shut down when temperature exceeds the Shut-down temperature.
7 This charger can save 64 parameters sets and support the data import/export to SD card.
8 A 2.4" IPS LCD screen provides rich information including current, voltage, power, capacity, internal resistance, control status, time-consuming and temperature, etc.
9 Multi-discharge features: self-discharge, regenerative to input or discharge to another channel, and lithium battery extra expanding discharge.
10 Supports measurement for internal resistance of battery offline and online. Measure not only the internal resistance of the entire battery pack, but also measure the internal resistance of each cell within the lithium battery.
11 DX8 has protection for reversed polarity (input or output), input voltage/current, battery temperature, charging capacity, overrun time and maximum power etc.
12 Supports upgrading the hardware program by USB port or SD card. DX8 also supports the "Junsi Console" software and can display, plot and analyze the charge and discharge data by it.
Input voltage range: 9—49VDC
Maximum input current limit: 65A(Channel 45A)
Maximum charge/discharge current: 50A(Channel 30Ax2)
Maximum charge power capacity: 1600W(Channel 1100Wx2)
Maximum discharge power capacity: 70W(Channel 45Wx2)
Maximum regenerative discharge power capacity: 1600W(Channel 1100Wx2)
Maximum extra discharge power capacity: 2100W (Channel 1050W @35V/30A)
Maximum current drain for balancing: 4A(Channel 2Ax2)
Type-C PD port: 5V/3A,9V/2A,12V/1.5A
Support Battery type: LiPo, Lilo, LiFe, LiVH, LTO, NiZn, NiMH, NiCd, Pb
Net weight: 440g
Dimension: 97.5×128.5×40mm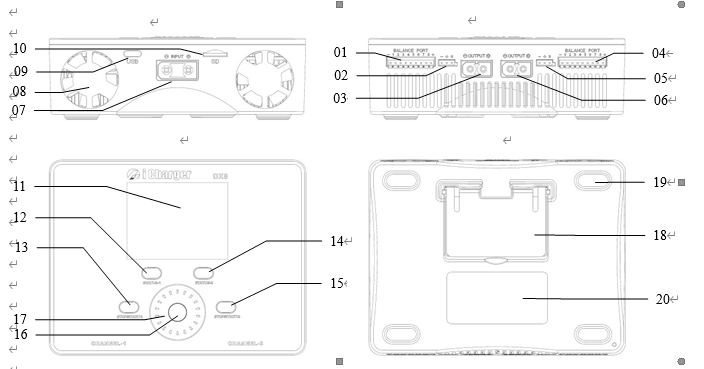 | | | | |
| --- | --- | --- | --- |
| 01)CH1 Balance port | 02) CH-1 Multi-function port | 03) CH-1 Output port | 04) CH2 Balance port |
| 05)CH-2 Multi-function port | 06)CH-2 Output port | 07) Power input port | 08)Fans |
| 09) USB Type-C & PD | 10) SD card slot | 11) LCD | 12) STATUS-1 |
| 13) STOP/START-1 | 14) STATUS-2 | 15) STOP/START-2 | 16) Round button |
| 17)Rotary switch | 18) Holder | 19) Anti slip pad | 20) Name plate |


采用先进的高效同步升降压(Synchronous buck-boost DC/DC converter)技术,大功率、大电流、高转换效率。充电功率最大为1600W,通道充放电电流 最大为30A,两通道同步模式充放电电流最大为50A。

支持8串LiPo, Lilo, LiFe, LiVH, NiZn和LTO的平衡充电(采用独特的内阻修正平衡算法和最大2A的平衡电流,保证平衡的快速精确完成);支持1-25串镍氢、镍镉电池充电;支持1-15串铅酸电池充电。

实现双通道的可调数字电源功能(带有过流、过压、输入欠压和输入过流等保护功能)。

带type-c PD充电口,方便用户对手机和平板电脑的充电。

智能风扇控制。通过内部温度传感器,控制风扇的转速。

内部温度保护。内部温度大于衰减温度,设备自动降低输出功率;大于停机温度,自动停机。

本机可保存64组电池的参数设定,并支持数据导入/导出SD卡。

2.4寸IPS全视角彩色液晶显示。提供丰富的信息显示:电流、电压、电量、功率、内阻、控制状态、消耗时间、温度等。

多种放电功能:本机放电,回收到输入或另一个通道放电,还有锂电池扩展放电功能

支持电池离线和在线内阻测量。不仅可以测量整个电池组的内阻,对锂电组还可测量每个单体的内阻。

提供全面保护。输入或输出反极保护,输入电压/电流保护,电池温度保护,容量保护,时间保护,最大功率等。

支持通过USB口或SD卡的硬件程序更新,能通过Junsi Console软件对充放电数据进行显示、绘图和分析。
输入电压范围: 9—49VDC
最大输入电流限制: 65A(Channel 45A)
充电/放电最大电流: 50A(Channel 30Ax2)
最大充电功率: 1600W(Channel 1100Wx2)
最大放电功率: 70W(Channel 45Wx2)
最大回收放电功率: 1600W(Channel 1100Wx2)
最大扩展放电功率: 2100W(Channel 1050W @35V/30A)
最大平衡电流: 4A(Channel 2Ax2)
TYPE-C PD充电口: 支持5V/3A,9V/2A,12V/1.5A
支持电池类型: LiPo, Lilo, LiFe, LiVH, LTO, NiZn, NiMH, NiCd, Pb
设备重量: 440克
设备的外观尺寸: 97.5×128.5×40mm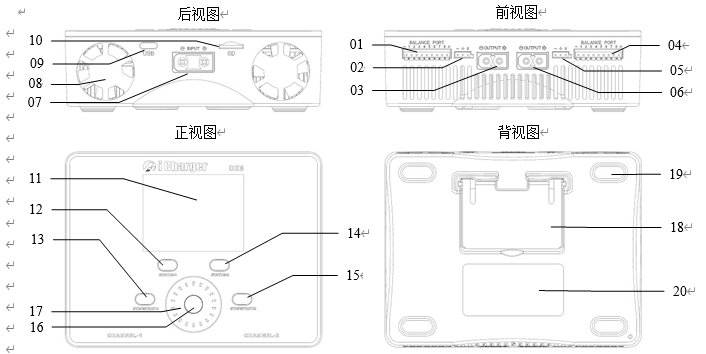 | | | | |
| --- | --- | --- | --- |
| 01)通道1的平衡插口 | 02)通道1的多功能插口 | 03)通道1的主输出口 | 04)通道2的平衡插口 |
| 05)通道2的多功能插口 | 06)通道2的主输出口 | 07)电源输入插口 | 08)散热风扇 |
| 09) USB Type-C(带PD) | 10)SD卡插卡槽 | 11)显示屏 | 12) STATUS-1按键 |
| 13) STOP/START-1按键 | 14) STATUS-2按键 | 15) STOP/START-2按键 | 16)圆按钮 |
| 17)旋钮 | 18)支架 | 19) 防滑脚垫 | 20)铭牌 |